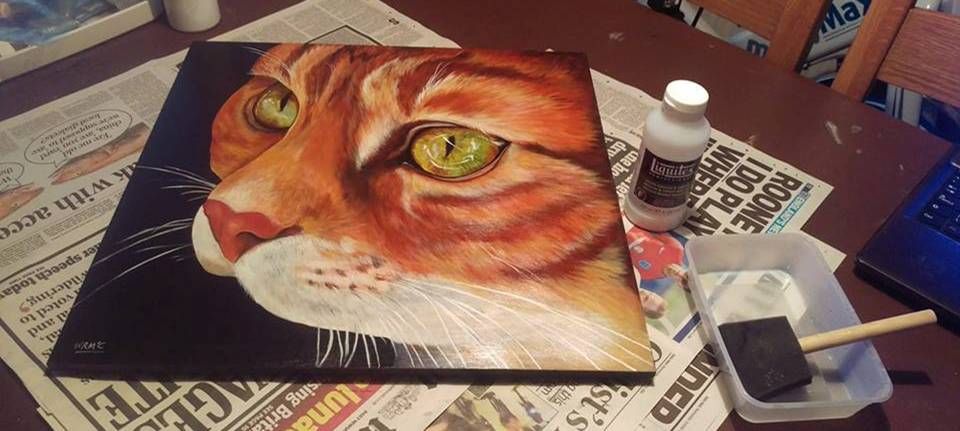 Hi, my name is Wendy – I live in County Antrim, Northern Ireland. My passion is to paint animals in quirky poses with diverse angles using acrylics on a simple black background. As a self-taught artist, it was only after a diagnosis of Multiple Sclerosis in 2010 that I rekindled my childhood love of painting and find art a form of therapy to while away many long days of immobility. I'm not fast but I am fastidious – it's my attention to fine detail that brings my paintings to life. Animals are my passion, particularly horses; however, I paint all animals, pets, wildlife, and birds.
I was delighted to debut my first solo exhibition, Animal Magic, at The Gallery Whitehead during September 2018. On display was a range of my work, including paintings, quality giclee prints, and canvases, all for sale. My previous artwork has sold at Carrickfergus Art Club exhibitions held in spring and autumn seasons at the Civic Centre, Carrickfergus.
In September 2019 my second solo exhibition, Animal Antics, at The Gallery Whitehead was a great success, I was delighted that over 75% of my paintings sold in addition to giclee prints and greeting cards. My next exhibition will be with Carrickfergus Art Club at their Autumn show in The Civic Centre, Carrickfergus from 9th to 23rd November with a special preview evening on Friday 8th November from 5.30 pm.
The exhibitions have proven very popular with many paintings selling on the preview evenings. I always look forward to meeting gallery viewers, it's a pleasure to discuss my work with fellow animal lovers who, also often love my art! If you would like an invitation to the preview evenings please contact me for a ticket.
"Looking into the eyes of an animal I cannot help but fall in love"